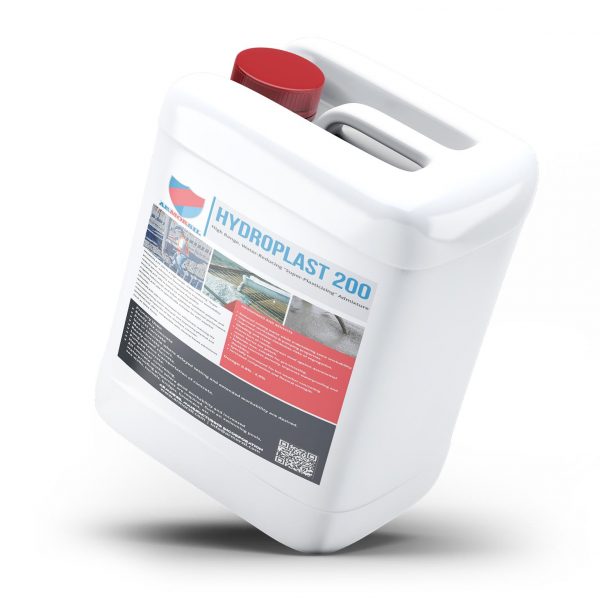 HYDROPHOBIC HIGHLY CONCENTRATED
ADMIXTURE FOR CONCRETE, MORTAR AND PLASTER 
HYDROPLAST-200 is a high range, water-reducing "plasticizing" admixture formulated to improve workability, reduce permeability and improve durability.HYDROPLAST-200 is based on a blend of synthetic polymer and organic substances and other additives to improve performance. HYDROPLAST-200 is specifically suitable for HOT weather climates. HYDROPLAST-200 is formulated for effectively reducing the concrete mixing water demand and improving the physical and mechanical properties of the resultant concrete. HYDROPLAST-200 is compatible with mineral-based admixtures such as Silica Fume.
Features
Uses
Packaging
Dosage
Consumption
Features
Reduced mixing water while maintaining same workability.
Improved workability & pumping properties.
Improved physical & mechanical properties.
Improved surface finish.
Improved cohesion minimizes risks of segregation, bleeding and creep.
Denser concrete improves waterproofing properties and protection of reinforcement steel against detrimental water-borne ion attack.
Water-based, non-flammable, non-toxic.
Chloride-free; suitable for pre-stressing.
Specially formulated for hot weather concreting.
Increased compressive and flexural strength.
Uses
Packaging
Dosage
Consumption
Standards
Dispensing
Health & Safety
Limited Warranty
Standards
HYDROPLAST-200 is formulated to comply with all the requirements of:
  ASTM C- 494, Type A
 EN 943, Part 2, Tables 1 and 2
Dispensing
Health & Safety
Limited Warranty