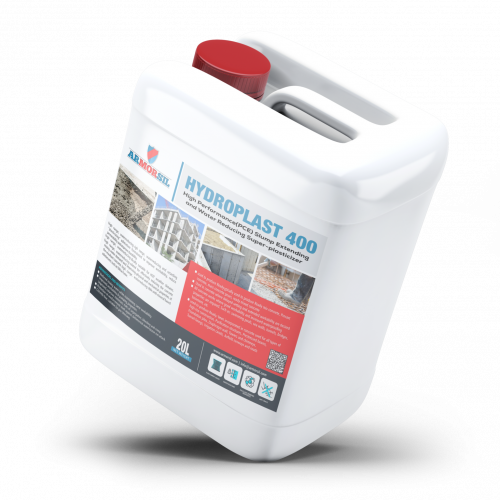 HIGH PERFORMANCE (PCE) SLUMP RETENTION AND WATER REDUCING SUPER-PLASTICIZER
HYDROPLAST-400 is a fourth generation high performing polycarboxylate ether super- plasticizer designed to produce ready mix concrete with low water to cement ratio, impressive workability and slump retention. It is specifically designed for ready mix industry where high workability, improved water reduction with extended slump retention is of critical importance in achieving high quality and durable concrete.
HYDROPLAST-400 allows for the achievement of desired strength with reduced cement usage without losing workability. It allows for the production high consistency and quality concrete with low water – cement ratio, ensures a controlled extended workability and improves early strength development. HYDROPLAST-400 is suitable for HOT and COLD climate, minimizes bleeding and segregation tendencies.
Advantages / Benefits
Uses
Standards
Technical Properties
Advantages / Benefits
Better customer satisfaction is achieved because the concrete producer can consistently produce and deliver quality concrete
Provides good slump and workability retention without retardation
Reduces the need for job site adjustment of slump and workability
Desired Strength can be achieved by reducing cement contents to meet specified Strength without loss of workability
Improves the quality of concrete by increasing workability, while reducing the water
Cement ratio & pumping properties
Improved physical & mechanical
Improved surface finish.
Improved cohesion, minimizes risks of segregation and
Denser concrete protection of reinforcement steel against detrimental water-borne ion attack.
Water-based, non-flammable, non-toxic.
Chloride-free; suitable for pre-stressing.
Specially formulated for hot weather
Increased compressive and flexural strength
Uses
Standards
Technical Properties
Working Principle
Dispensing
Caution
Dosage Range
Limited Warranty
Working Principle
HYDROPLAST-400 improves the cement dispersion within the concrete significantly. This property allows for the formation of a homogeneous and low viscosity cement paste which ensures an improved workability, extended workability and slump retention.
Dispensing
Caution
Dosage Range
Limited Warranty