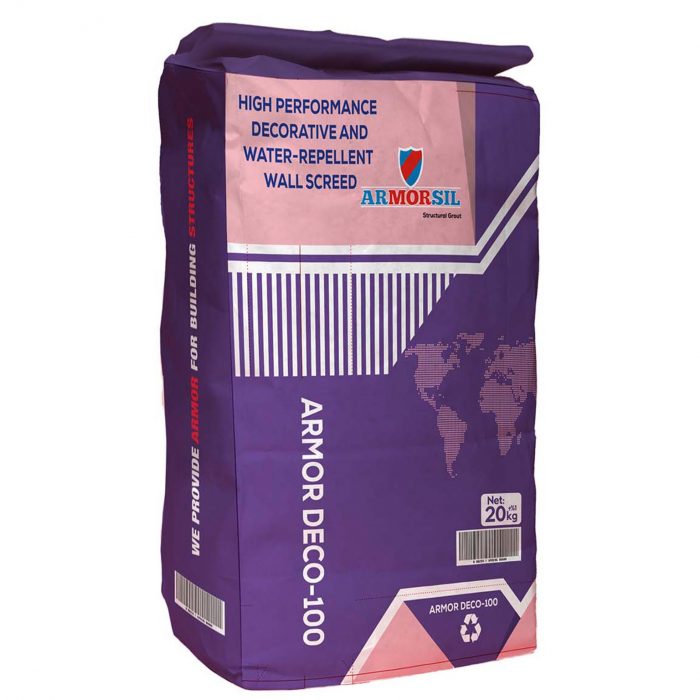 HIGH PERFORMANCE DECORATIVE AND
WATER-REPELLENT WALL SCREED
ARMORDECO-100 is a high performing, specially formulated pre-bagged plaster mortar. It can be used on inner and outer walls. It is easy to use, strong and binds better to its substrate. It provides an even surface on which tilling can be
done faster and efficiently.
Features & Benefits
Surface Preprations
Application Areas
Mixing & Applications
Packaging & Shelf Life
Features & Benefits
ARMORDECO-100 produces aesthetically nice
finish with good decorative properties, other
benefits are:
High Strength
Crack free wall
Faster application
Excellent coverage
Decorative and water repellent
Protects against wind rain.
Surface Preprations
Application Areas
Mixing & Applications
Packaging & Shelf Life
Technical Data
Consumptions
Specification
Packaging
Storage
Cleaning
Limited Warranty
Technical Data
Appearance: Grey or White Powder, When mixed: Grey Viscous Slurry
When Dry: Grey Film
Test                                          Results                                      Methods
Compressive strength          22.7Mpa at 28 days                ASTM C-109
Flexural Strength                   2.3mpa at 28 days                   ASTM-348(Modified)
Bond/Adhesion                    >1.5mpa                                      ASTM-C321
Crack Bridging at                  >0.75mm
high temperature
Permeability                       1.5 Bar positive and                      DIN 1048
Negative water head
Bond strength at                       >0.5
immersion in Water
Reaction to fire                        Class E
Bond strength after
application of heat source         1.5                                               EN 14891-A
Consumptions
Specification
Packaging
Storage
Cleaning
Limited Warranty