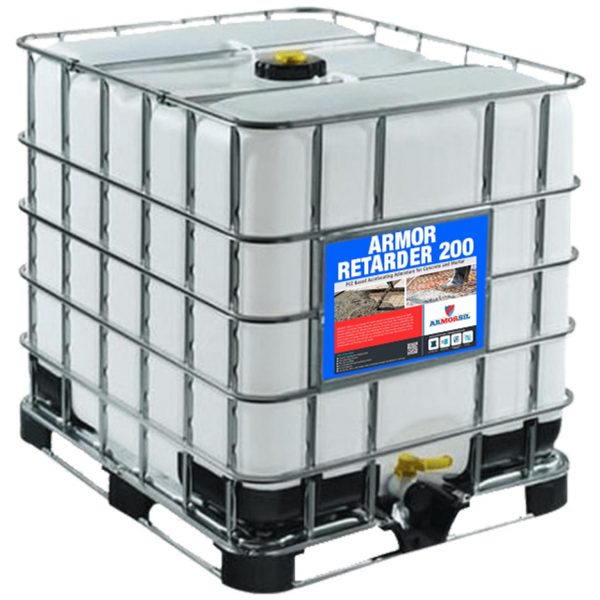 PCE BASED WATER REDUCING AND RETARDING, PLASTICIZING ADMIXTURE  
ARMORSIL Retarder 200 is a polycarboxylate based superplasticizer developed particularly for use in ready mixed concrete to give extended slump retention and high strength development of high specification grade concrete mixes. ARMORSIL Retarder does not contain calcium chloride and other corroding materials. ARMORSIL Retarder is a blend of polymer-based plasticizer and proprietary retarding agent.
The chemical process of ARMORSIL Retarder when activated temporarily stops the hydration process, delaying the initial setting time in proportion to the amount of dosing. At the completion of the initial setting time, curing commences at a regulated rate. Concrete with ARMORSIL Retarder 200 can maintain workability in excess of 3 hours.
Advantages / Benefits
Recommended Uses
Health And Safety
Handling And Storage
Advantages / Benefits
Retards setting characteristics
Improves workability
Reduces water requirements
Reduce Segregation Ÿ Increases strength Ÿ Reduces permeability
Higher ultimate strengths allow greater flexibility for engineers to design
Reduced surface defects so improving aesthetic appearance
Durable concrete Does not contain chlorides or other steel corrosion promoting ingredients
Recommended Uses
Health And Safety
Handling And Storage
Technical Properties
Packaging
Application Mode
Overdosing
Limited Warranty
Technical Properties
Appearance: Colorless or Light Blue
Specific Gravity: 1.175 ± 0.005 at 20° C
Form: Liquid.
Smell: Pungent.
Chloride content: Nil
Additional air-entrainment: Less than 1%
Water-reduction: 10–20 % of mixing water
Setting Time: No effect at the recommended dosages.
Permeability: Reduces concrete porosity, improves waterproofing and durability.
Compressive strength: Increased early and ultimate compressive strengths
Cohesion: Improved cohesion reduces risk of segregation
Compatibility: Compatible with all types of Portland cement including Sulfate Resisting Cement (SRC)
Packaging
Application Mode
Overdosing
Limited Warranty