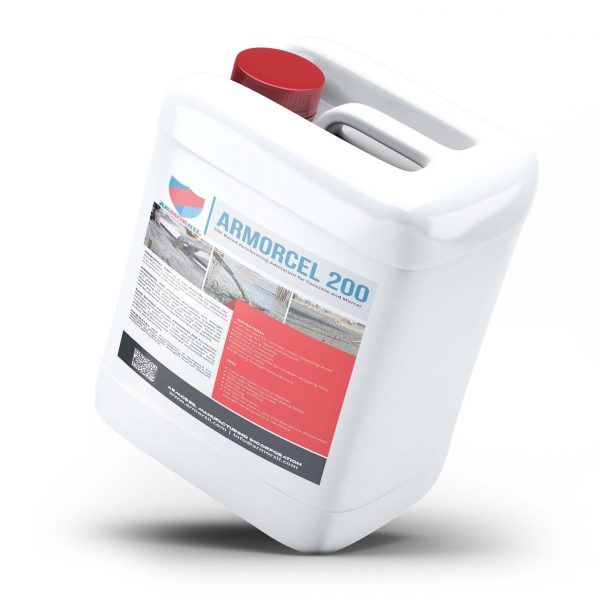 SNF Based Accelerating Admixture for Concrete and Mortar
ARMORCEL 200® is a non-chloride SNF based concrete and mortar set accelerator, ready-touse liquid admixture. It accelerates initial setting time one to three times faster than normal mortar and concrete without adversely affecting other properties of concrete and mortar.
ARMORCEL 200 improves workability and strength while hastening the hydration of cement. It makes the mix easier to place and speeds construction by shortening the initial set and curing time without resulting in slump loss. Time and labor are saved because formwork and other protection can be removed earlier and finishing can be started.
ARMORCEL 200® Accelerator is designed for applications where early stiffening (slump loss) is not desirable but high early strengths must be obtained within a specified time.
Features
Uses
Packaging
Shell Life
Technical information
Features
High Flow and Fluidity
Resistant to chemical
Controlled expansion
ARMORCEL 200 helps to cut down stripping time precast concretes 
High early strength development
Uses
Packaging
Shell Life
Technical information
Dosage and directions for use
Armorsil manufacturing
Health & Safety
Limited Warranty
Dosage and directions for use
Typical dosage would be 200 -750 ml (0.4 -1.5%) per 50kg bag of cementitious content. Note that the actual dosage for any situation would depend on trial mixes, the initial extension of the required set time, temperature and cement type. It is better to add ARMORCEL 200 to wet concrete after more than 50% of the initial water has been added.
Armorsil manufacturing
Health & Safety
Limited Warranty