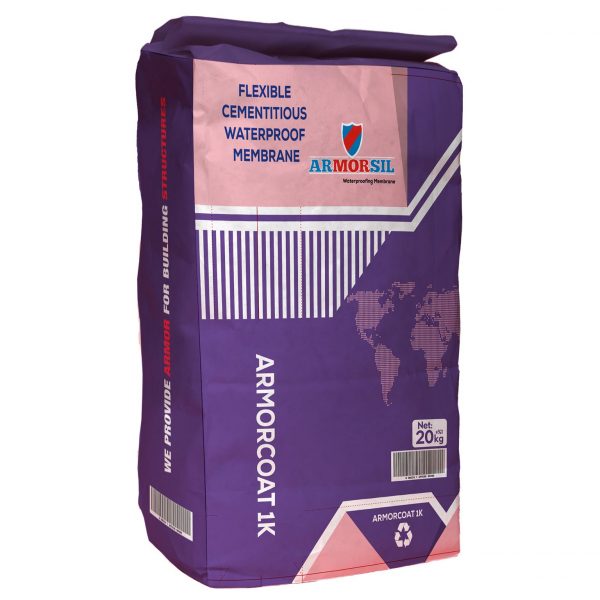 Flexible Cementitious Waterproof Membrane
ARMORCOAT -1K is a high performing polymer modified one component cementitious membrane, which is mixed with water to form a dense, semi-flexible waterproof barrier.
ARMORCOAT -1K is designed for positive and negative side waterproofing on concrete and masonry surfaces. ARMORCOAT -1K is suitable for the waterproofing of terraces, balconies, under tiles, bathrooms, water tanks, basements, lift pits and other wet areas.
ARMORCOAT -1K is based on Advanced Polymer technology; it possesses outstanding adhesion, mechanical properties, resistance to frost and salt water, it has  enhanced flexibility and excellent crack bridging properties. ARMORCOAT -1K does not contain any ingredient which could negatively affect reinforcement or concrete.
Features
Uses
Surface Preparation
Mixing And Application
Technical Data
Recommendations
Features
ARMORCOAT -1K can be used for both negative and positive side waterproofing.
Can continuously withstand extreme hydrostatic pressure
It is certified for potable water
Because it is one component, and mixed with water, it is easy to
Tested up to 6 bar water pressure (60m head of pressure); positive side; tested to 1.5 bar (15m head of pressure) on negative side
Can withstand foot traffic
Can be applied to damp and moist substrates and allows concrete breathe
Uses
Surface Preparation
Mixing And Application
Technical Data
Recommendations
Consumption
Packaging
Place For A
Cleaning
Health And Safety Instruction
Limited Warranty
Consumption
1.1Kg/m2 per mm of thickness
Packaging
Place For A
Cleaning
Health And Safety Instruction
Limited Warranty