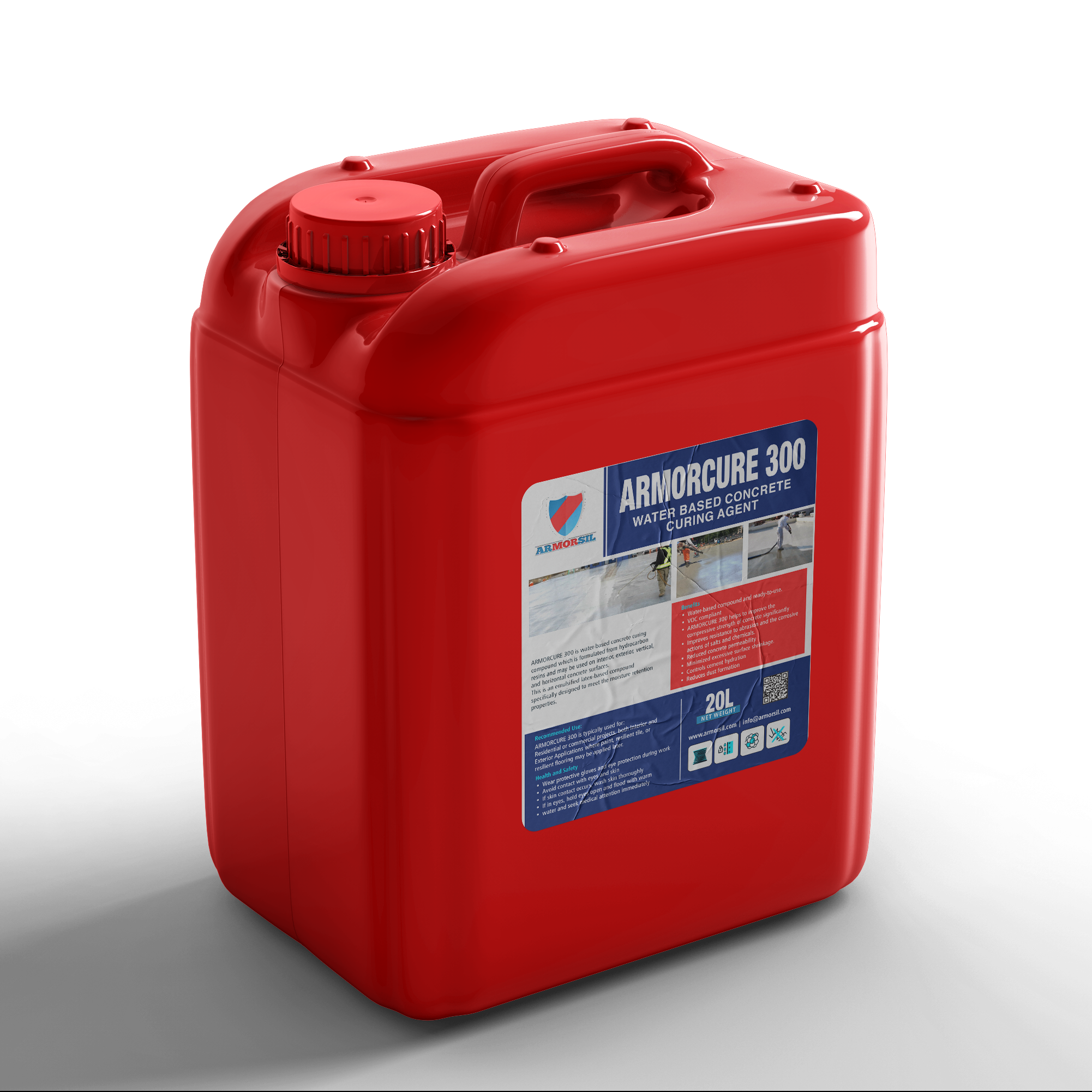 WATER BASED CONCRETE CURING AGENT
ARMORCURE 300 is water-based concrete curing compound which is formulated from hydrocarbon resins and may be used on interior, exterior, vertical, and horizontal concrete surfaces. This is an emulsified latex-based compound specifically designed to meet the moisture retention properties.
Advantages / Benefits
Water-based compound and ready-to-use.
VOC compliant
ARMORCURE 300 helps to improve the compressive strength of concrete significantly
Improves resistance to abrasion and the corrosive actions of salts and
Reduced concrete permeability
Minimized excessive surface
Controls cement hydration
Reduces dust formation
Reduces the potential for plastic
Uses
Standard
Packaging
Coverage
Health And Safety
Surface Preparation / Application Mode
Apply ARMORCURE 300 in a uniform film to horizontal surfaces as soon as the surface water disappears and the surface cannot be marred by walking applicator. On vertical surfaces, apply promptly after the forms are removed. Promptly clean application equipment with soap and water following use. Handle and dispose of cleaning residue properly. Mix gently before usage. Ensure that the application tools are clean and free from dust or any other foreign materials. ARMORCURE300 may be applied with a typical commercial hand or power sprayer, apply promptly after the forms are removed. An even spray pattern/application is essential and recommended for the aesthetic and final appearance of the concrete. Avoid dripping of the spray nozzle on fresh concrete. ARMORCURE 300 typically dries in 1 – 2 hours, depending on jobsite conditions (temperature, % relative humidity, wind, etc.) Restrict foot traffic for at least four hours. Twelve hours is preferable.
WORK MODE
ARMORCURE 300 forms a layer that holds an ideal measure of water in newly placed concrete for complete hydration of the cement. Approximately after 20-21 days, the film starts to synthetically separate when exposed to UV rays. The film will in the long run dissipate from the surface.
Handling And Storage
Stability And Reactivity
Limited Warranty