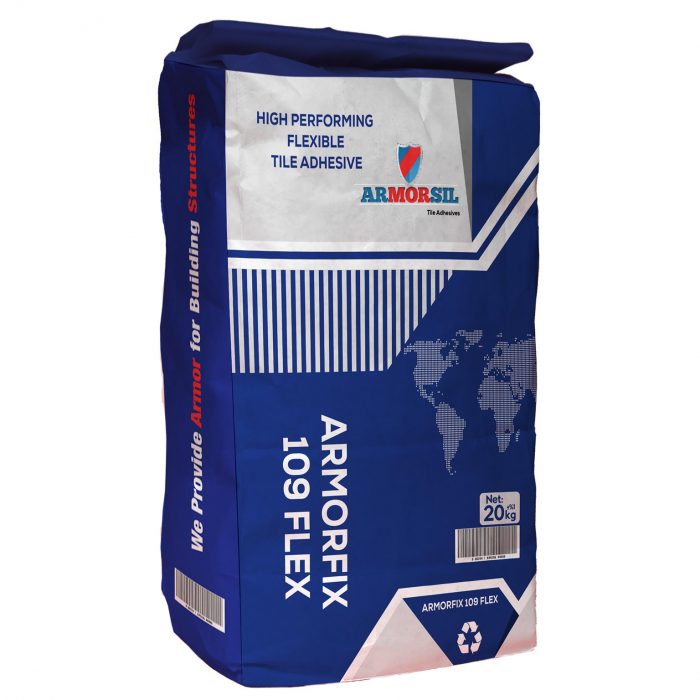 ARMORFIX -109 Flex is a high performing, standard setting and cement based tile adhesive with water resisting properties. It is suitable for thin and thick bed applications, internal and external applications of ceramic tiles, mosaic tiles and stone materials. ARMORFIX -109 Flex is polymer modified and has excellent anti slip properties.
Features
High adhesive tensile strength
suitable for laying tiles on walls and floors for internal and external
Easy to mix and apply
Non-sag and anti- slip properties with high initial adhesiveness
Greater workability due to high port life
For internal and external applications
Suitable for wet areas like bathrooms and swimming pools as it has waterproofing properties
Uses
Surface Preparation
Application Instruction
Application And Installation
Coverage
For thin solid bed application (3mm thickness) 4-5kg of ARMORFIX -109 Flex will cover approximately 1m2.
Large tiles may need to have the adhesive buttered to the back as well. Ensure that tiles are well bedded into the adhesive. See further information in the technical section below
Packaging
Technical Information
Cleaning And Health
Shelf Life
Limited Warranty