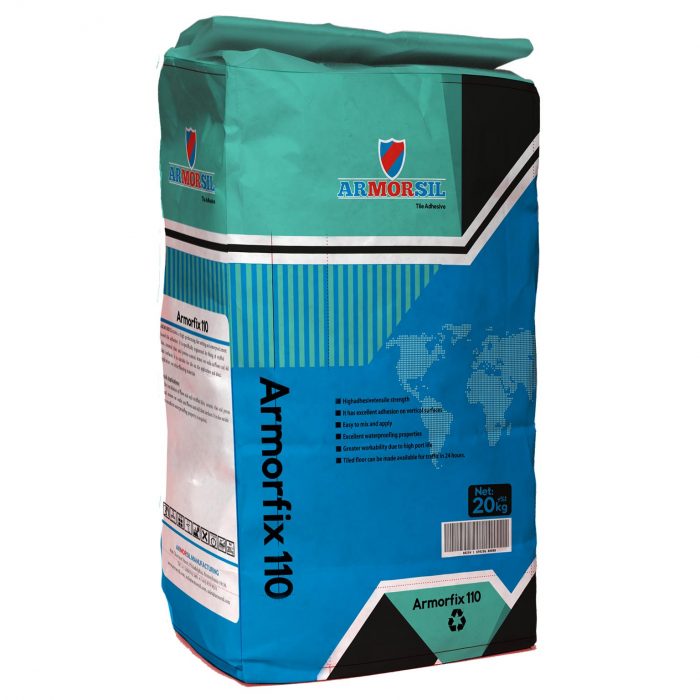 ARMORFIX -110 is a high  performing,  polymer modified cementitious based tile adhesive. It is specifically engineered for fixing of vitrified tiles, ceramic tiles and porous natural stones on walls and floors and old tiled surfaces. It is suitable for tile on tile application and direct application on other flooring materials.
Features
High adhesive tensile strength
It has excellent adhesion on vertical
Easy to mix and apply
Non sag properties with high initial adhesiveness
Greater workability due to high port life
Tiled floor can be made available for traffic in 24
Uses
Surface Preparation
Application Instruction
Application And Installation
Coverage
PACKAGING
Technical Information
STANDARD: EN 12004 for C2TE
Bed thickness

3 – 6 mm (may be exceeded in small areas only)

Coverage (approx.).

 

9 kg/m2 (solid bed, 6 mm thick)

4.5 kg/m2 (solid bed, 3 mm thick)

Open time

20 -40 minutes

Correction time

2 hours

Working time (pot life)

4 hours

Set time

18-24 hours

 Temperature resistance       

–10 to 100°C and frost resistant when set

Water addition

5 liters per 20kg

Slip resistance

≤0.5N/mm2
Note: setting times are quoted at 20°C – 30°C and are temperature and humidity dependent.
Cleaning And Health
Shelf Life
Limited Warranty