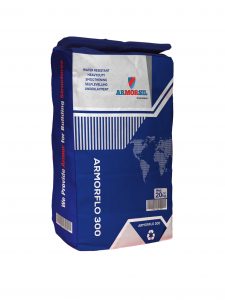 WATER-RESISTANT HEAVY-DUTY SMOOTHENING SELF LEVELLING UNDERLAYMENT
ARMORFLO 300 is a self -smoothening underlayment for medium to heavy duty
industrial flooring applications such as warehouse, factory and industrial floors requiring durability and strength. It is designed for easy application on concrete floors over concrete floors as an underlayment for subsequent placement of floor coverings.
Features & Benefits
Aesthetically nice self-leveling and
smooth finish
Fast setting, can be worked on within 3 to
4 hours, depending on the temperature
Excellent workability, can be poured or
pumped
Minimal shrinkage and outstanding
resistance to crack
Excellent bond strength
Application Areas
Application Instruction
Surface Prepration
Application & Installation
Pour the material on the area to be resurfaced using a smoothing trowel ,because of the selfleveling property of ARMORFLO 300 the material can easily be finished as desired, spike roller will be used to eliminate entrapped air or bubbles and to give a uniform appearance. The level of thickness will also be determined by the application need, but should be achieved in one application; the mixed material can be applied at a thickness between 3mm and 20 mm. If the mix hardens, it should be disposed, please do not attempt to remix or add water to hardened mix.
Cleaning And Health
Specification
Packaging And Shelf
Techinical Data
Limited Warranty