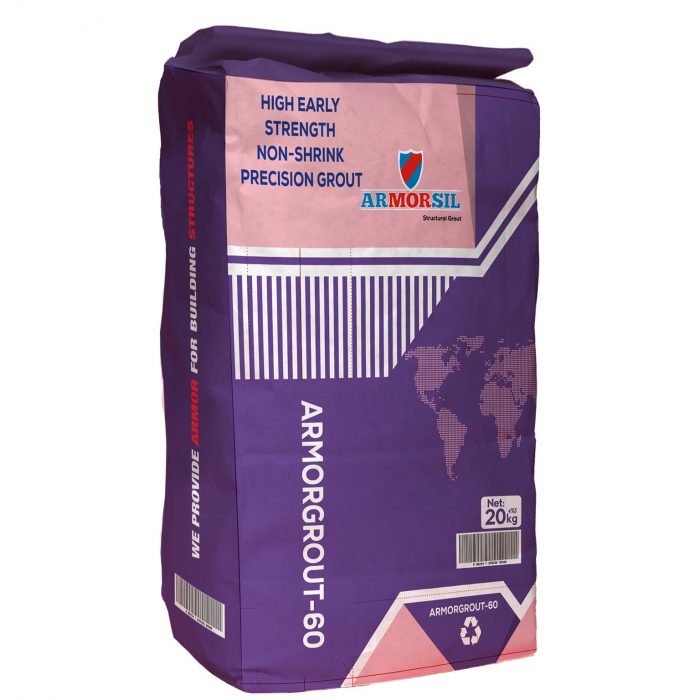 HIGH EARLY STRENGTH NON-SHRINK PRECISION GROUT
ARMORGROUT -60 is a non-shrink precision structural grout containing expansion agents to prevent shrinkage while the product hardens. It is designed for grouting all kinds of machinery, steel columns, precast concrete, bearing plates and anchoring applications. ARMORGROUT -60 is designed to achieve high early strength and outstanding ultimate strength.
ARMORGROUT -60 sets rapidly with high early strength in short time frame and impressive ultimate strength. It is particularly suited to grouting machines or plates for precision load bearing support requiring urgency, precision and high strength.
Advantages / Benefits
Uses
Packaging
Shell Life
Dosage
Armorsil Manufacturing
Consumption
Advantages / Benefits
 It protects structure against water
penetration and water damage for a long
time.
 Increases resistance to weathering, such as
wetting and drying and freeze-thaw cycle.
Increases resistance to Chloride ion
Reduced primary and secondary
efflorescence on structures
Because of its additional repellency property,
it is suitable for preventing wind rain
Reduce the probability of corrosion of steel
reinforced concrete
Protection against de-icing salts
Uses
Packaging
Shell Life
Dosage
Armorsil Manufacturing
Consumption
Standards
Material Properties
Health & Safety
Limited Warranty
Standards
Conforms to the requirements of BS EN 934-2
Table 9
Material Properties
Health & Safety
Limited Warranty