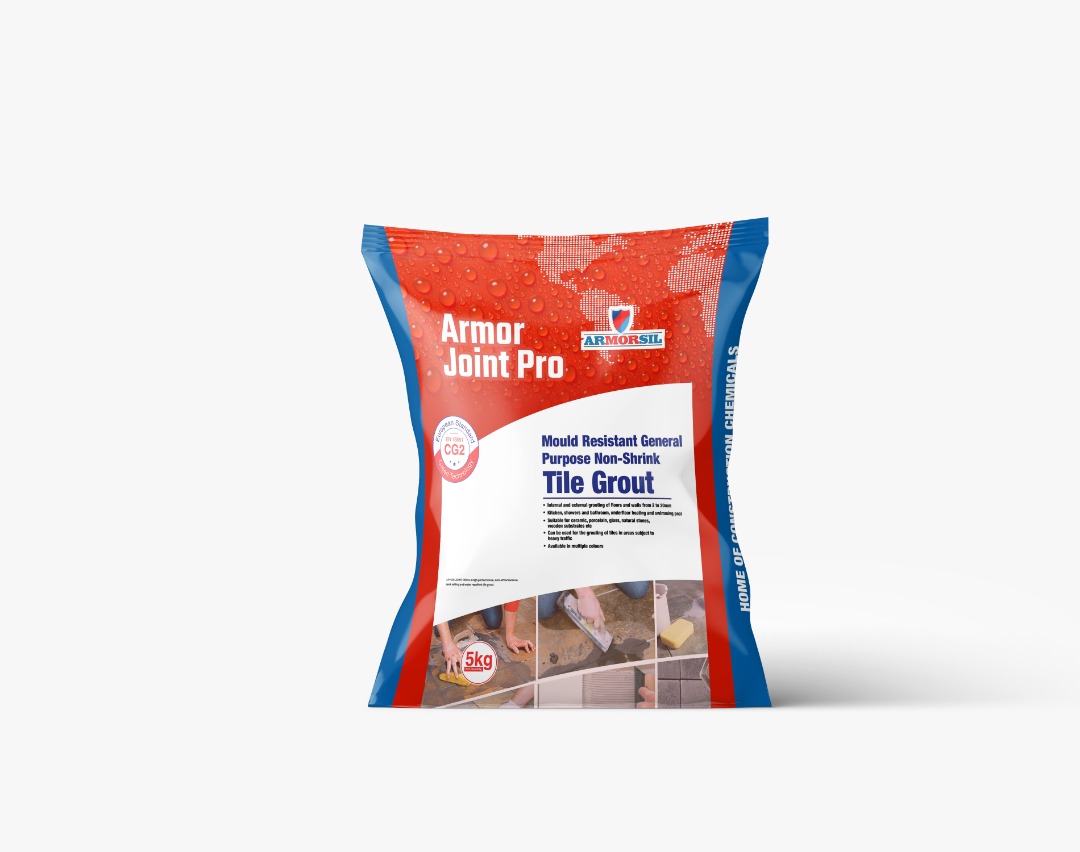 MOULD RESISTANT GENERAL-PURPOSE NON-SHRINK TILE GROUT
ARMOR JOINT PRO 100 is a high performance, anti- efflorescence, quick setting and water repellent tile grout with excellent performance properties. It is dense and has high abrasion resistance. ARMOR JOINT PRO 100 is available in 7 different colours.
ARMOR JOINT PRO 100 is a 1-component, polymer modified and water-resistant cementitious tile grout for joints. It is particularly used in conjunction with ARMORFIX tile adhesives. Suitable for use in hot and tropical climatic conditions.
Advantages / Benefits
Application Areas
Coverage
Advantages / Benefits
Easy to use, requires only the addition of water
Good Long open time (enough time to clean residues from the tiles after application)
Hardens fast without cracking or shrinkage
Excellent Water-repellent properties and impermeable to many liquids
Good abrasion resistance
Good Colour Consistent
Very good adhesion to unglazed surfaces
Available in 7 different colours
Mould-inhibiting and fungicide
Equipped with anti-microbial technology
UV resistant
Ideal for floors and walls
Application Areas
Coverage
Surface Preparation / Application
Technical Details
Health And Safety
Limited Warranty
Surface Preparation / Application
Surface Preparations:
Substrates must be properly cured, structurally sound, clean, dry and free of all contaminants such as dust, dirt, oil, grease, cement laitance, efflorescence, previous coatings, or any other surface treatments or obstructions such as excess tile adhesive, tile joint spacers, etc. Surfaces must be cleaned thoroughly, free of loose and unsound material, cement slurry and any other deposits. Use wet sponge to remove dusts from joints before application.
Mixing
The correct mix proportion of ARMOR JOINT PRO 100 should be 4 to 5 litres of water to 20kg and 1 to 1.3 litres of clean water to 5kg mix thoroughly using a low speed mechanical mixer until the material is fully homogeneous and lump free. Do not use any latex with ARMOR JOINT PRO 100. Remix thoroughly until the finished mix has a very creamy consistency and uniformly coloured and allow the mixture to stand for a few minutes before use.
Application
Spread ARMOR JOINT PRO 100 with a firm rubber float, completely fill the joints leaving no voids. Excess grouts should be removed within two hours before product cures.
Technical Details
Health And Safety
Limited Warranty