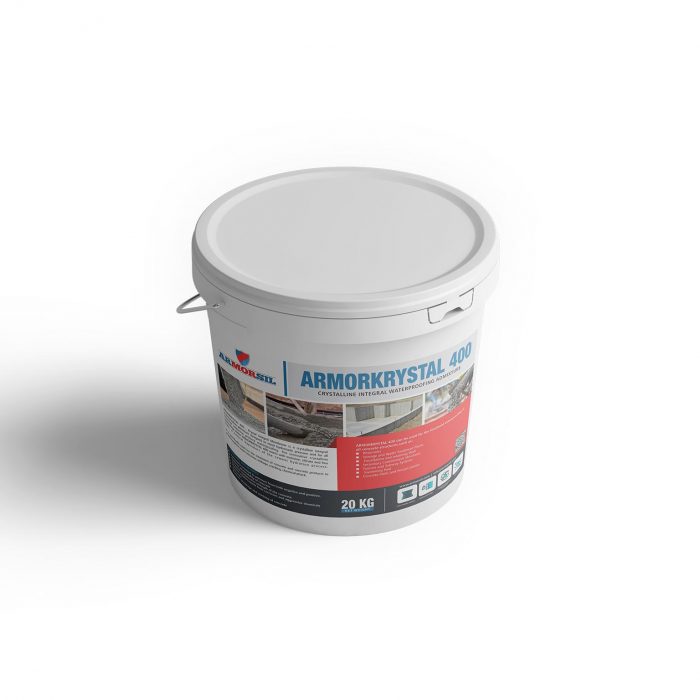 CRYSTALLINE INTEGRAL WATERPROOFING ADMIXTURE
ARMORKRYSTAL 400 – Krystal Integral Membrane is a crystalline Integral waterproofing admixture designed to resist hydrostatic pressure and for all concrete requiring primary waterproofing. The innovative crystalline technology within ARMORKRYSTAL 400 reacts with moisture, silicate and free lime, a natural byproduct of the cement hydration process.
The reaction creates millions of nano-crystals which grow throughout the concrete pores and capillary tract. It is specifically used for the treatment of concrete and concrete products to protect against water intrusion, leakage, cracking, chemical attack.
Advantages / Benefits
Uses
Packaging
Shell Life
Dosage
Armorsil Manufacturing
Consumption
Advantages / Benefits
Extremely resistant to pressure from both negative and positive.
reduces permeability of concrete 
increases compressive strength of the concrete.
protects reinforcement from corrosion and aggressive chemicals
Non-toxic
reduces shrinkage and cracking of concrete
Uses
Packaging
Shell Life
Dosage
Armorsil Manufacturing
Consumption
Standards
Material Properties
Health & Safety
Limited Warranty
Standards
Conforms to the requirements of BS EN 934-2
Table 9
Material Properties
Health & Safety
Limited Warranty