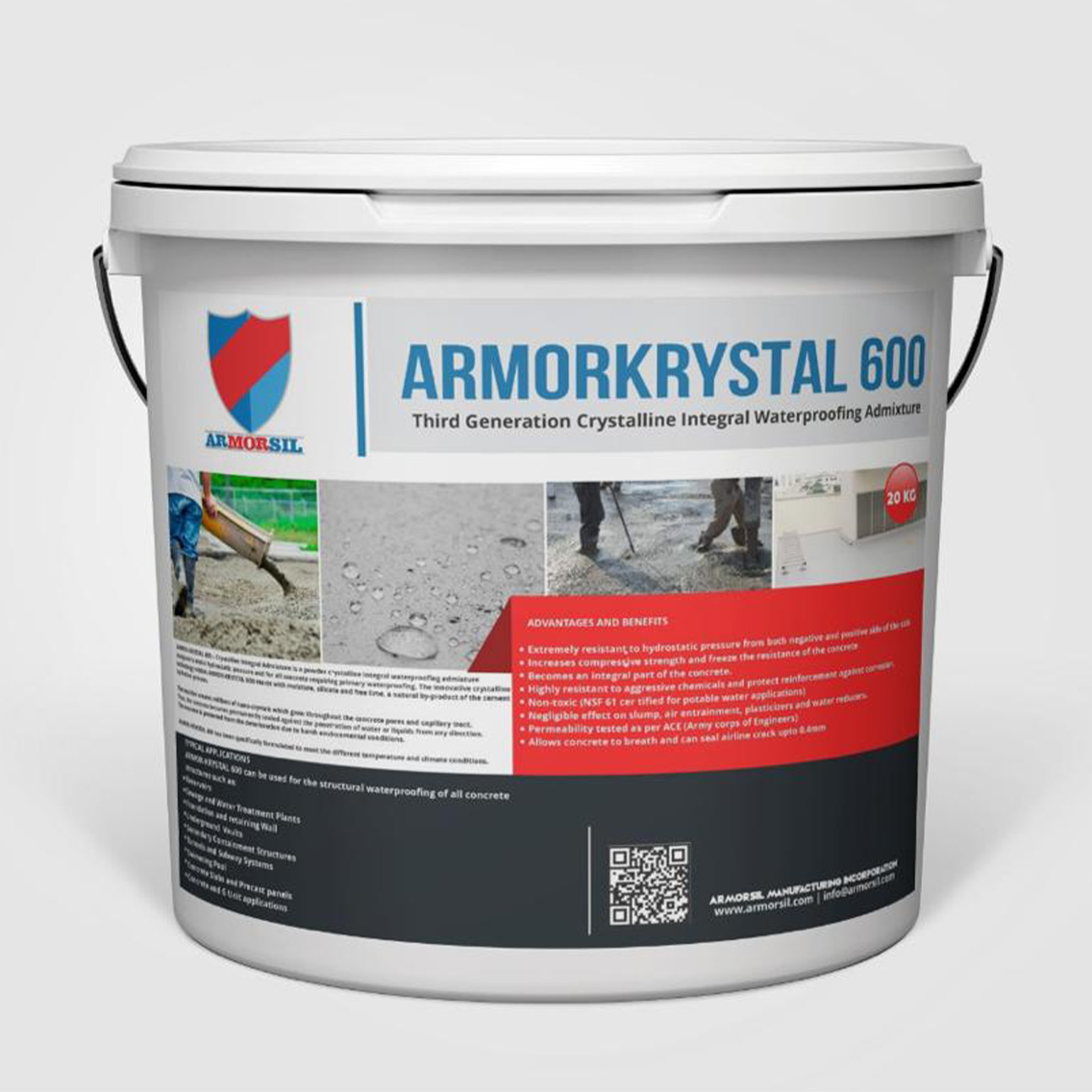 THIRD GENERATION CRYSTALLINE INTEGRAL
WATERPROOFING ADMIXTURE
ARMORKRYSTAL 600 – Krystal Integral Membrane is a third generation powder crystalline Integral waterproofing admixture designed to resist hydrostatic pressure and for all concrete requiring primary waterproofing.The innovative crystalline technology within
ARMORKRYSTAL 600 reacts with moisture, silicate and free lime, a natural by-product of the cement hydration process.The reaction creates millions of nano-crystals which grow throughout the concrete pores andcapillary tract. Thus, the concrete becomes permanently sealed against the penetration of water or liquids from any direction. The concrete is protected from deterioration due to harsh environmental conditions.
ARMORKRYSTAL 600 has been specifically formulated to meet different temperatures and climate conditions.
Advantages / Benefits
Typical Application
Direction For Use
Setting Time & Strength
Advantages / Benefits
 Extremely resistant to hydrostatic pressure
from both negative and positive side of the
slab
 Increases compressive strength and freeze-
thaw resistance of the concrete
Becomes an integral part of the concrete.
Highly resistant to aggressive chemicals and
protects reinforcement against corrosion.
Non-toxic (NSF 61 certified for potable waterapplications)
Negligible effect on slump, air entrainment,plasticizers and water reducers.
Permeability tested as per ACE (Army corpsof Engineers)
Allows concrete to breathe and can seal hairline crack up to 0.4mm
Increases concrete life span by 70 years Can stand alone
Typical Application
Direction For Use
Setting Time & Strength
Cleaning And Health
Specification
Techinical Information
Packaging And Shelf
Limited Warranty
Cleaning And Health
ARMORKRYSTAL 600 is a non-hazardous
material, however because it is used with
Portland cement it should be known prolonged
contact with skin by Portland cement may lead
to irritation, as it is the case with all cementitious
based material, therefore safety gloves and
glasses should be used when working with
cement.
Specification
Techinical Information
Packaging And Shelf
Limited Warranty