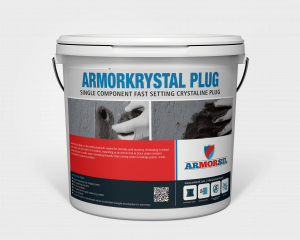 SINGLE COMPONENT
FAST SETTING HYDRAULIC PLUG
Armorplug is a fast-setting hydraulic cement for concrete and masonry. Armorplug is mixed with water and sets within 3-5 minutes, expanding as its sets to lock in place under constant water pressure or underwater. Armorplug instantly stops running water in leakage points and cracks on concrete or masonry surfaces.
Advantages / Benefits
Uses
Packaging
Shell Life
Dosage
Armorsil Manufacturing
Consumption
Advantages / Benefits
Fast setting: changes from a mortar like mix to a hardened state within a minute and sets
within minutes.
Extremely easy to use, just add water and mix.
It expands as it sets to create a water tight seal.
It can be used below grade and above grade,
internal and external, even under water
Stops leaks under water.
Uses
Packaging
Shell Life
Dosage
Armorsil Manufacturing
Consumption
Standards
Material Properties
Health & Safety
Limited Warranty
Standards
Conforms to the requirements of BS EN 934-2
Table 9
Material Properties
Health & Safety
Limited Warranty