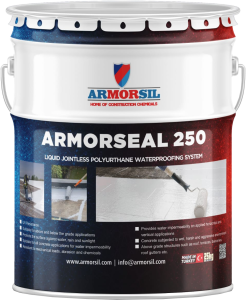 LIQUID JOINTLESS POLYURETHANE WATERPROOFING SYSTEM
ARMORSEAL 250 is a revolutionary single component  permanently  elastic  Polyurethane w a t e r p r o o fi n g m e m b r a n e w h i c h  a f t e r p o l y m e r i z a t i o n f o r m s a n e l a s t o m e r i c polyurethane membrane, resisting UV rays and capable of handling building movement with a service life of 25 years.
Once cured ARMORSEAL 250 allows for expansion and contraction over a broad temperature range and maintain waterproofing properties under continuous exposure to water. It may be applied easily on different surfaces (concrete, mortar, brick, ceramics, bituminous membranes, steel, zinc, Aluminum).
Advantages / Benefits
Uses
Limitations, Health And Safety
Storage
Advantages / Benefits
Excellent resistance to water and microorganism
Resistant to temperature
ARMORSEAL 250 membrane keeps its characteristics even in temperature between 500C to 100OC
Waterproofed surface provides excellent weather resistance and UV resistance
Provides sun reflectivity, contributing to thermo-insulation.
It offers a seamless waterproofing system, allowing for easy localization of damage and
High strength and puncture resistance and can adhere to almost any type of surface
When applied it is jointless and no complicated detailing, therefore application is simple
The waterproofed surface can be used for domestic, public pedestrian and vehicular traffic.
Provides water vapor permeability, so the surface can
Resistant to detergent, oil and other domestic chemicals
Please note that ARMORSEAL 250 is a system not a product
Uses
Limitations, Health And Safety
Storage
Curing
Limitations, Health And Safety
Technical Performance And Standard Tests
Limited Warranty
Curing
New concrete/ screed ,must be allowed to cure for 28 days. Adequate and detailed surface preparation is essential for durability of product after installation. Before application surface must be clean, dry and without contamination. The compressive strength of substrate must be at least 25MPa and cohesive bond strength must not be less than 1.5MPa.
All loose concrete, chirpings and dust should be removed, and uneven surface smoothened with the aid of grinding machine, the moisture content must be less than 5% Concrete cracks should be well cleaned and filled with a primer. Areas with large cracks must be paid special attention, they should be filled with ARMOR PU sealant and also covered with geotextile membrane after application of first coat.
PRIMING
Prime surface with ARMORFLO 500HD or ARMORPRIMER 200 to allow proper adhesion of membrane with substrate
APPLICATION OF ARMORSEAL 250
Armorseal 250 will be applied after priming in 2 coats. 2nd coat applied within 48 hours of first coat application.
APPLICATION OF TOPCOAT
Where the application of topcoat is required to achieve a complete treatment system for longer service life of 36 years, apply one or two layers of the ARMORSEAL 700 Top-Coat over the ARMORSEAL 250 Application of ARMORSEAL 700 is required where a heavy duty, abrasion resistant surface is desired (e.g. Public Pedestrian Deck, Car Parking, etc), apply two layers of ARMORSEAL 700 topcoat.
Limitations, Health And Safety
Technical Performance And Standard Tests
Limited Warranty