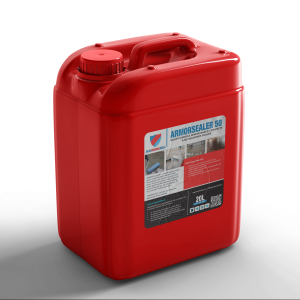 MULTIPURPOSE WATER BASED CONCRETE AND MASONRY SEALER
ARMORSEALER-50 is a multi-purpose waterbased acrylic and water resistant sealerformulated to seal concrete, masonry, brick,pavers and stucco surface. It has impressive waterrepellency effect thereby protecting concrete from grease, oil,salt,gasoline, UV rays and other harmful chemicals.
ARMORSEALER-50 does no change the appearance of the substrate..
Features And Benefits
Application Area
Direction For Uses
Precautions
Features And Benefits
 Protects concrete from stain and UV impact
 Because it has Permeable film, it allows
moisture in cured concrete to evaporate
It has excellent stain proofing,
weatherproofing and dustproofing properties.
 It is highly resistant against aggressive
chemicals
Application Area
Direction For Uses
Precautions
Specification
Technical Data
Cleaning And Health
Packaging And Shelf life
Limited Warranty
Specification
ARMORSEALER-50 is specified for most
substrates requiring weatherproofing and stain
proofing.
Technical Data
Cleaning And Health
Packaging And Shelf life
Limited Warranty