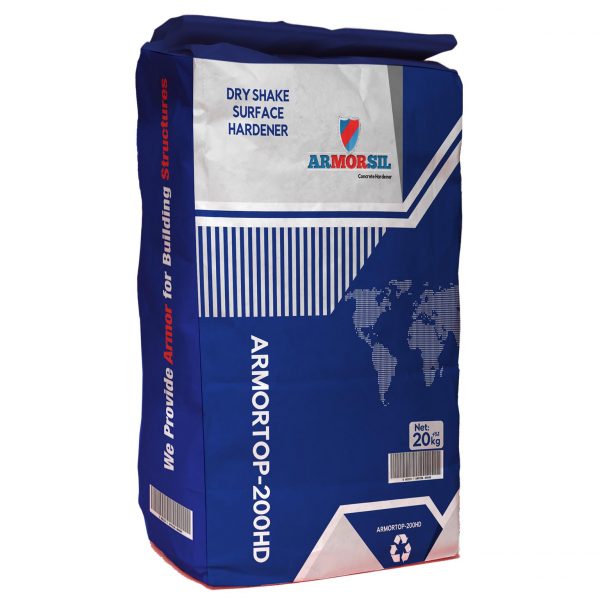 DRY SHAKE SURFACE HARDENER
ARMORTOP-HD200 is a hard wearing, factory blended ready to use cementitious system with a blend of 100 % pure emery -tuff and special fillers that hardens freshly poured concrete. It is typically applied as a dry shake over freshly placed concrete in industrial, commercial, loading bays, Factories, Warehouse, Car Park, Trucking Lanes,
Workshops, Garages, Subways, Power Stations & Abattoirs.
ARMORTOP-HD200 is non corrosive and can be used inside and outside and offers a superior alternative to metallic floor hardeners. ARMORTOP-HD200 will provide harder, denser and more abrasion resistant floor.
Features & Benefits
Primary Application
Direction For Use
Features & Benefits
Provides a hard wearing abrasion resistant
surface
Significantly increases the life of concrete
over that of untreated concrete
Resist penetration by oil, grease and other
contaminants
Increases anti dusting properties of the
concrete
Forms monolithic bond with base concrete
Light-fast, UV resistant
Water, oil and other contaminants resistant.
Primary Application
Direction For Use
Health & Safety
Specification / Compliances
Coverage
Shelf Life
Packaging
Limited Warranty
Health & Safety
ARMORTOP 200HD c o n t a i n s cement that
when in contact with bodily fluid may cause
irritation and other allergic reaction to those
predisposed. . Safety gloves and googles should
be won when mixing or applying ARMORTOP. If
ARMORTOP 200HD comes in contact with bodily
fluid or eyes rinse immediately with copious
amount of water and seek medical attention
immediately. Please refer to the most recent MSDS
for more information.
Specification / Compliances
Coverage
Shelf Life
Packaging
Limited Warranty