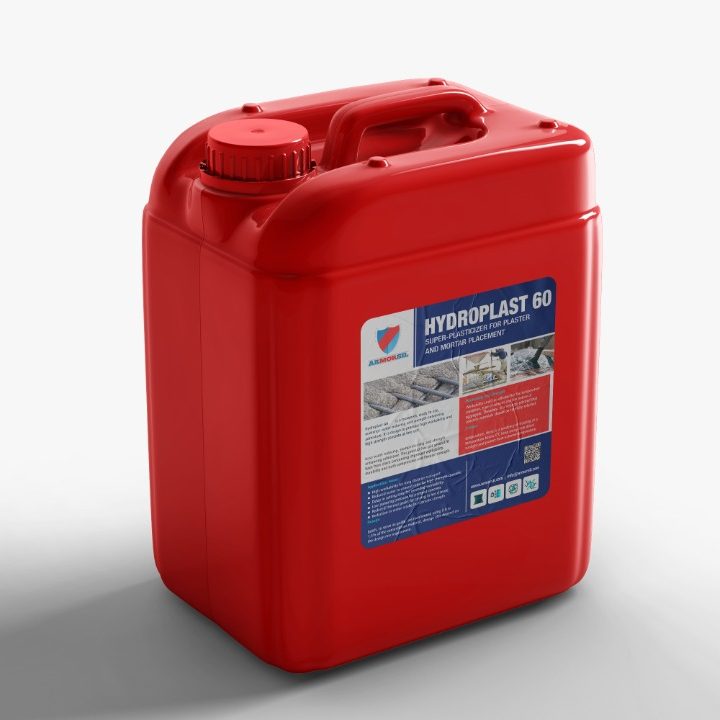 SUPER-PLASTICIZER FOR PLASTER AND  MORTAR PLACEMENT
HYDROPLAST-60 is a high performance, liquid, water- reducing "plasticizer" admixture formulated to improve the plasticity, cohesiveness and durability of mortar and plaster.
Once incorporated in the mix, HYDROPLAST-60 is a readyto-mix admixture that produces a plasticizing effect by reducing the surface tension of mixing water. It has excellent air entrainment properties which controls the amount of microscopic air bubbles and increase the cohesion of mortar and plaster. It is specially researched for the placement of plaster and mortar.
Advantages / Benefits
Reduced mixing water while maintaining same
Less wear of moulds & improve
Improves the early strength & cycle time of plaster and
Improved physical & mechanical
Applicable for all Portland and Slag
Reduces permeability in mortar and increases durability
Improved cohesion, minimizes risk of segregation, bleeding and
Uses
Standard
Health And Safety
Handlin G And Storage
Technical Properties
Appearance: Dark brown liquid
Specific Gravity: 1.175 ± 0.005 at 20° C
Form: Liquid.
Smell: Pungent.
Chloride content: Nil
Additional air-entrainment: Less than 1%
Water-reduction: 10–20 % of mixing water
Setting Time: No effect at the recommended dosages.
Permeability: Reduces concrete porosity, improves waterproofing and durability.
Compressive strength: Increased early and ultimate compressive strengths
Cohesion: Improved cohesion reduces risk of segregation
Compatibility: Compatible with all types of Portland cement including Sulfate Resisting Cement (SRC)
Dosage Range
Application Mode
Overdosing
Stability And Reactivity
Limited Warranty