Dampness in buildings can damage much more than a buildings appearance. It may lead to deterioration of plaster and masonry, promote timber decay and create unhealthy condensation. Dampness tends to cause secondary damage to a building. The unwanted moisture enables the growth of various fungi in wood, causing rot or mold health issues, could eventually lead to sick building syndrome. Molds can grow on almost any surface and occur where there is a lot of moisture from structural problems such as leaky roofs or high humidity levels. One of the most important requirements of a building is that it should remain dry, that is, damp proof. In the event that this condition is not fulfilled, all things considered, the structure may get unhygienic to the occupants and dangerous from the structural perspective, since dampness breeds germs of specific illnesses and deteriorates the structure. Damp in building can occur naturally when the foundation of a building is not well treated with the appropriate material which may lead to rising damp.
TYPES OF DAMPNESS
There are three (3) types of dampness;
Penetrating damp
Rising damp
Condensation damp
CAUSES OF PENETRATING DAMP
Penetrating damp is caused by the following

Broken or blocked rain gutters on roof

Bricks losing their weatherproof defense

Structural issues with the building
Cracks in external walls
Cracks in windows and door frames
Leaking pipes
CAUSES OF RISING DAMP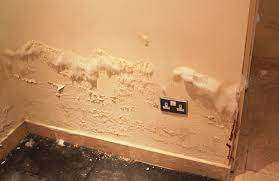 Rising damp is caused by water from the ground moving up and rising into the building as result of capillary action.
Dampness rising from the ground either because there is no damp-proof course or because the existing D.P.C. has failed.
Rising of Ground Water Level causing increase in pores penetration in masonry.
CAUSES OF CONDENSATION DAMP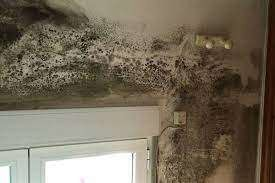 It is caused by moist air condensing on walls
It also occurs due to a lack of ventilation, cold surfaces and lack of central heating.
GENERAL SIGNS OF DAMPNESS
Damp in lower parts of walls rising up the wall.
Peeling and blistering paint.
Wet patches on walls and damaged skirting boards.
Damp smell
Condensation on windows
Rusting Iron and Steel Fasteners.
Crumbling Bricks and Mortar between Bricks.
Salts within the plaster.
EFFECTSOFDAMPNESS
It gives rise to the breeding of mosquitoes and creates an unhealthy environment, which eventually results in ill health of the people living in the building and the surrounding areas.
Transportation of water through walls causes patches on the wall.
The presence of moisture causes efflorescence in walls, which disintegrates bricks, stones, tiles, etc.
The presence of moisture causes rust in reinforcement steel bars, eventually reducing the strength of the structure.
Wooden furniture and components like doors and windows may get damaged when moisture comes in contact with it.
When in contact with the electrical fittings, electricity leakage may take place, resulting in a short circuit.
TREATMENT OF DAMPNESS
Armorsil West Africa recommends Armorcoat 2k/Armorcoat 1k/Armorseal 200 and Aquaseal 100/200/300 for the treatment of rising damp